Scholarships
The James Lewis Tennis Scholarship Foundation offers two types of scholarships each year. The first is our College Scholarship Fund which is offered to one student per year, and the second is our Tennis Skills Improvement Scholarship Application which is offered to multiple students per year. Thus far our Foundation has awarded $23,800 in scholarships. Please read the details below for more information about eligibility and requirements for each one of our scholarships.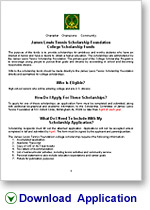 James Lewis Tennis Scholarship Foundation
College Scholarship Funds
The purpose of the funds is to provide scholarships for ambitious and worthy students who have an interest in tennis and have a desire to obtain a higher education. The scholarships are administered by the James Lewis Tennis Scholarship Foundation. The primary goal of the College Scholarship Program is to encourage young people to pursue their goals and dreams by succeeding in school and becoming responsible citizens.
Gifts to the scholarship funds should be made directly to the James Lewis Tennis Scholarship Foundation directly and earmarked for college scholarships.

Who Is Eligible?
High school seniors who will be entering college and are U.S. citizens.

How Do I Apply For These Scholarships?
To apply for one of these scholarships, an application form must be completed and submitted, along with additional biographical and academic information, to the Scholarship Committee of James Lewis Tennis Foundation at 533 Oxford Circle, Birmingham AL 35209 no later than April of each year.

What Do I Need To Include With My
Scholarship Application?
Scholarship recipients must fill out the attached application. Applications will not be accepted unless completed in full and submitted by April. The form must be signed by the applicant and parent/guardian.
The James Lewis Tennis Foundation college scholarship requires the following information:
1. A completed application
2. Academic Transcript
3. Copy of SAT or ACT test results
4. Two letters of recommendation
5. List of extracurricular activities, including tennis activities and community service
6. Personal statement to also include education expectations and career goals
7. Picture for publication purposes
How are Recipients Selected?
All scholarship recipients will be chosen from the students who make application to the Scholarship Committee of the James Lewis Tennis Foundation before the deadline. Scholarship recipients will be selected according to merit on a competitive basis. The Scholarship Committee will select the recipients by evaluating each eligible student's academic record throughout high school, qualities of leadership, and extracurricular accomplishments including tennis activities, the student's self-description, and test scores.

What Is The Amount Of The Scholarship?
The stipend of each scholarship is $1,000.00 per year.

What Are My Obligations and Responsibilities
If I Am Selected?
Scholarship recipients are completely responsible for making admission arrangements and fulfilling all requirements of the school selected, which must be a college or university in the United States, which is fully accredited by its regional accrediting commission on higher education. The recipient must enter college as a full-time student in the fall term following selection, and must pursue a course of study leading to one of the traditional baccalaureate degrees. The scholarship recipients are expected to make normal academic progress and must remain in good academic and disciplinary standing. While honor grades are not required, scholarship recipients have a responsibility to do quality work in college.
Also, the Awards Committee of the James Lewis Tennis Foundation requires that scholarship recipients send a brief written report following the first semester of the scholarship year. This report should indicate the student's educational achievements during the semester, tennis activities, if any, and goals for the second semester.

Who Handles Scholarship Procedures?
Selection of recipients is handled by a scholarship selection committee composed of James Lewis Tennis Scholarship Foundation or Appointees. Payment of stipends will be handled by the James Lewis Tennis Scholarship Foundation.

Who Can Answer Scholarship Questions?
You may contact the Scholarship/Awards Coordinator c/o the James Lewis Tennis Scholarship Foundation at (205) 527-9240 or send questions to tenniszyx@aol.com.

---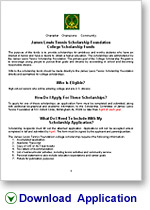 James Lewis Tennis Scholarship Tennis Foundation
Tennis Skills Improvement Scholarship Application
The Primary goal of the JLTSF Tennis Improvement Scholarship is to encourage young people to improve their tennis skills and become responsible citizens. Selection criteria will include, but not limited to: (1) Demonstrated true sportsmanship by being fair, generous, a good loser, and a graceful winner, (2) Demonstrated ethical conduct on and off the tennis court, and (3) Actively participated in extracurricular activities and community service.
The deadline for submission of this application is May 1 and December 1 of each calendar year.